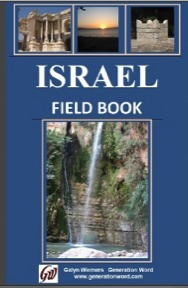 Israel Field Book
,
by Galyn Wiemers, softcover, 188 pages,
(Last Hope Books and Publications) 2012.
Galyn's new online book is now available as a free .pdf download (no printed copies are available).
This book provides details on 66 sites in Israel, 80 sites in Jerusalem and includes: 20 informative diagrams/charts, 25 excavation maps and over 300 color photos in 188 pages. Israel Field Book was designed for and used by a group of Bible students on location in Israel as they traveled the land, examined archaeological sites and explored the historical remains in and around Jerusalem.